Next Steps for the Global Agenda Seminar Series
By Yoko Ishikura
April 2020
Part 2: In a Time of Unprecedented Crisis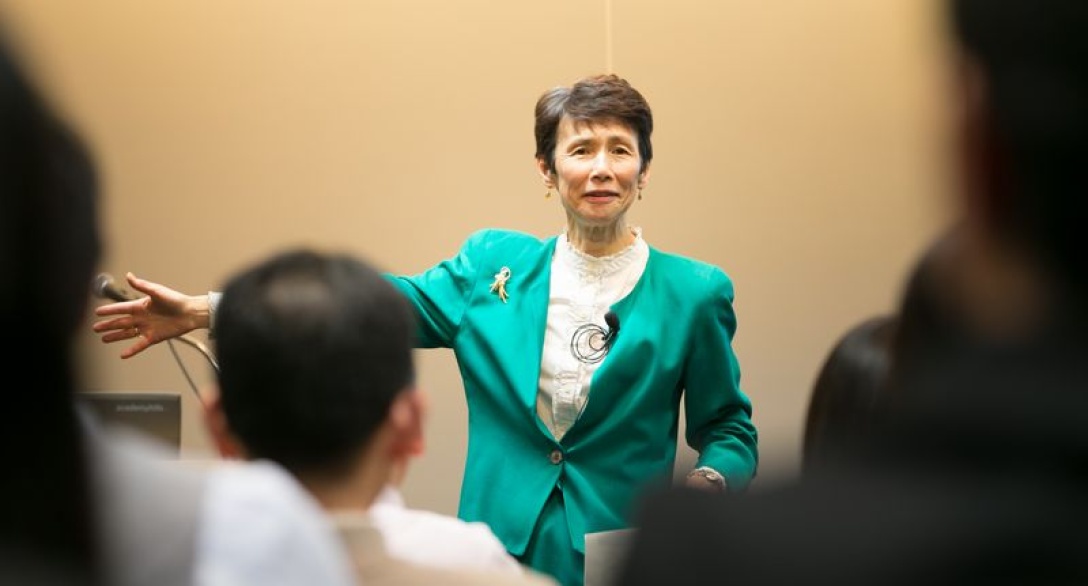 Looking back on this past 10 years, especially at a time when we are confronted with a huge global challenge --- the unprecedented threat from the new coronavirus --- the following two questions came up in my mind.
"Have we made some impact on people's lives through the GAS program --- participants themselves as well as those around them --- in developing global leaders?"
"Are the GAS alumni ready and capable to take on new challenges in the post Covid-19 world?"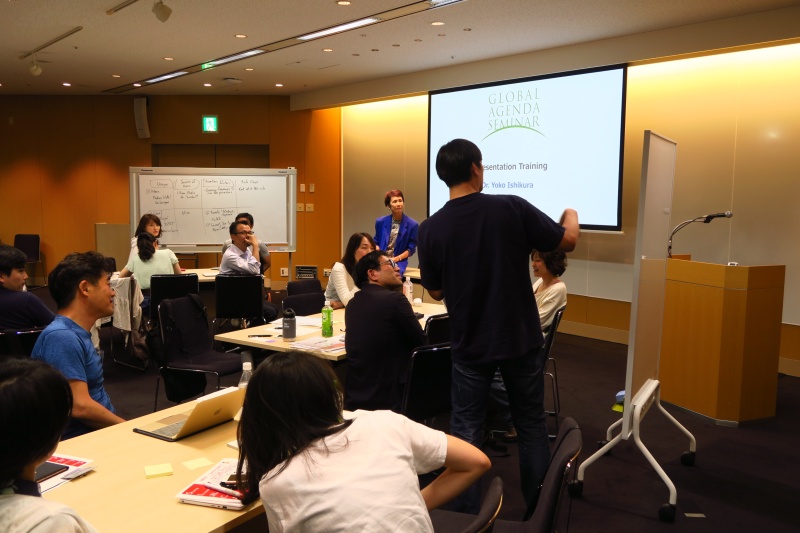 Participants presenting their ideas.
As I feel the post Covid-19 world will be completely different from the one we currently have, the second question becomes especially important for me. We can combine the above two questions to ask; "Have we developed skills to manage such crises and go beyond them to make the world better as leaders"?
My tentative answer to the first question is "Yes," with some qualifications, while the answer to the second question is "Not clear yet." Let me describe the reasons behind them.
As mentioned above, some people in the alumni started their own businesses to address such issues as recycling and new technology to allow people to move in a virtual world. Others joined the academic community to cultivate the capability of younger generations. Quite a few people changed their jobs after they participated in the GAS intensive program and some of them went overseas to actually work in a global field.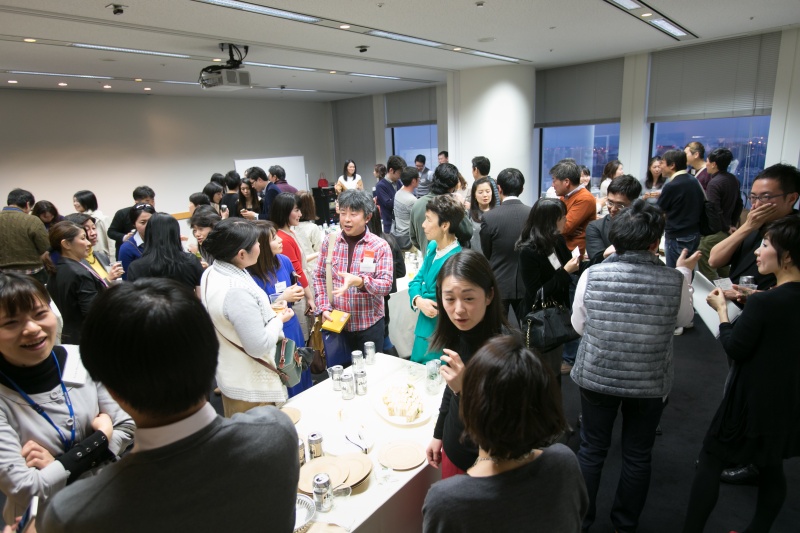 At a networking party.
We have an annual reunion to maintain a loose/casual network of the participants. Our GAS Alumni Facebook group page is very active with many posts introducing their activities and announcing events. Some make use of the network when they recruit people and/or search relevant information or contacts. Some alumni have been supporting my own initiatives such as the "Davos Experience in Tokyo Series" (which ended last year after 60 monthly workshop sessions) and "
SINCA
" sessions (the new project now underway.)
Reflecting on the activities, I realize that spending time together physically during the GAS program series may have made strong bonds and created camaraderie.
For the second question as to whether the GAS program was able to develop people who can lead in an uncertain world like that of today and take creative actions in the post Covid-19 world, the question remains.
We are now faced with an unprecedented crisis that none of us has ever experienced. It is global, and not local, its speed is so fast and grows exponentially, it is invisible, and it affects us not only individually, but also impacts our families and society as a whole. Our resilience is being tested.
The mid to long-term economy and society outlook is full of uncertainty. Will my industry survive? It is an urgent question for those working in the travel/hospitality industries. Will my company survive this crisis? Will my job remain?
Together with the quick technological transformation underway for some time, what will the world look like in five to ten years? How will my life change in the next several months and look in a few years? These are tough, but really important questions we need to address.
Can I maintain a positive attitude to face the harsh reality of increasing infections and the semi-lock down of society? Can I stay informed with a variety of information from experts and from many parts of the world? Can I think about tradeoffs we need to make, for example, how much work we do at home and how much time we spend with our children? How do I spend time freed by the company's policy of remote work?
Suddenly, we are on our own. We cannot look up to "authorities" whether they are our bosses or policy makers. We can make the best use of the communication technology available to us, but we need to make our own judgements to filter the various information/disinformation. If you keep up with information available in English and from different sources around the world, and not just the traditional Japanese media, you may be able to screen information and make reasonable assumptions for the future.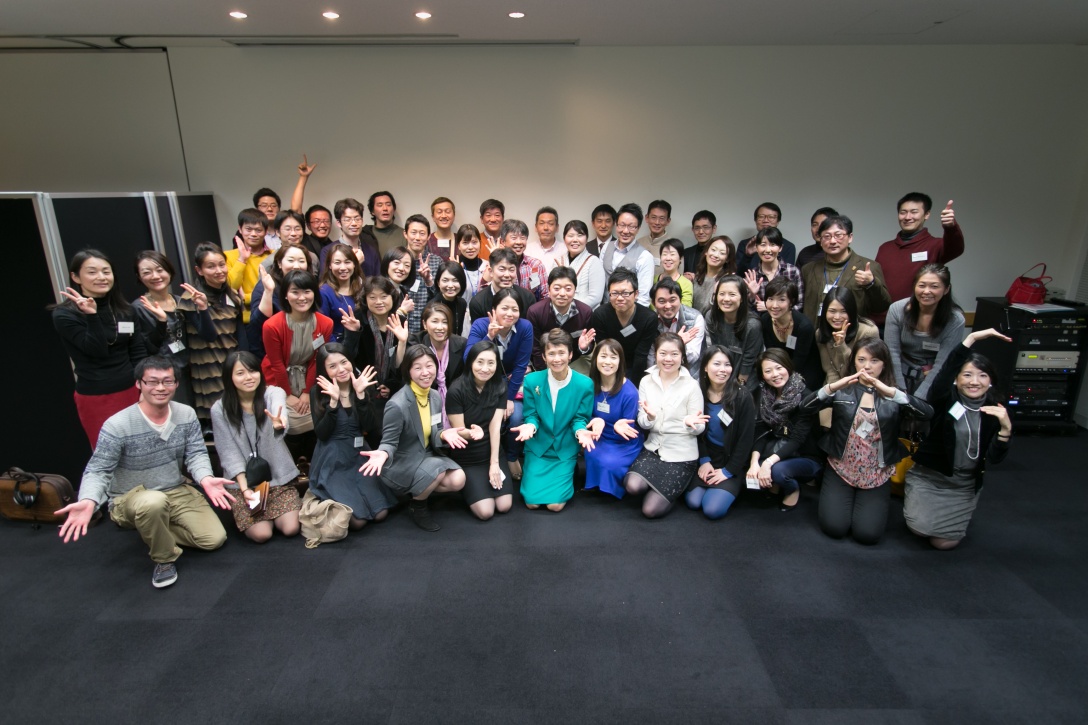 Getting together for a reunion.
What I am concerned about is that the majority of Japanese young people are not as interested in issues beyond their comfort zone, judging from some data I have recently encountered.
This thought resembles what I said in the interview article I did for Nihon Keizai Shimbun in January 2010 at the time of the launching of the GAS program. In that I explained what drove us to start the GAS series, and it was the sense of urgency that Japan was becoming detached from the rest of the world. I was shocked when I recently found this article from a decade ago, because I still feel that the problem remains or is getting even worse.
With Covid-19 disrupting our daily life, I am concerned that this outbreak may drive people to become even more inward looking. My hope is that the disruption may cause transformational change to a new direction in behavior and mindset, and that is to go toward open collaboration.
Covid-19 will be a test for our own resilience, mindset and capability to think hard. It will reveal our character and will provide unprecedented opportunities to make use of capability we hope participants have acquired through the GAS.
Inheriting the spirit of the GAS and making the best use of the network of the alumni, we are planning to launch a new project at Academyhills. The sense of crisis that Japan is becoming detached from the rest of the world still exists. I would like to continue to address this issue and maintain our activities to raise awareness among young people in Japan.
Next Steps for the Global Agenda Seminar Series インデックス
注目の記事
09月29日 (木) 更新

イベント「カタリスト・トーク」の登壇者が紹介する「理解を深める1冊」。今回はNext Commons Labの林篤志さんと奈良市長の仲川げん....




09月20日 (火) 更新

美術家の会田誠氏をお招きして、「アートの役割「正」と「負」を見つめて生きる」をテーマにお話いただきました。現代アートが表現するポジティブとネ....




08月26日 (金) 更新

音楽でつながり、新しい出会いを作る企画『音楽でつながろう』 今回は皆さんから投稿いただいた「夏に聴きたいおすすめの1曲」をご紹介いたします。



現在募集中のイベント
開催日 : 10月26日 (水) 19:00~20:30

暗号通貨やメタバース、最近ではNFTアート等、Web3.0という言葉を見聞きすることも多くなってきました。 しかし、まだまだ実態がよくわから....




開催日 : 10月27日 (木) 19:00~20:30

「美しい日本建築の世界」を、一緒に堪能しましょう。建築史家の大阪公立大学の倉方俊輔さんと、一級建築士で京都市京セラ美術館企画推進ディレクター....




開催日 : 11月16日 (水) 19:30~20:30

「無駄づくり発明家」として社会に「無駄」なものを誕生させ続ける藤原麻里菜さん。聞き手は、経営学者の楠木建さん。正しいか正しくないか、勝ちか負....