Next Steps for the Global Agenda Seminar Series
By Yoko Ishikura
April 2020
Part 1: 10 Years On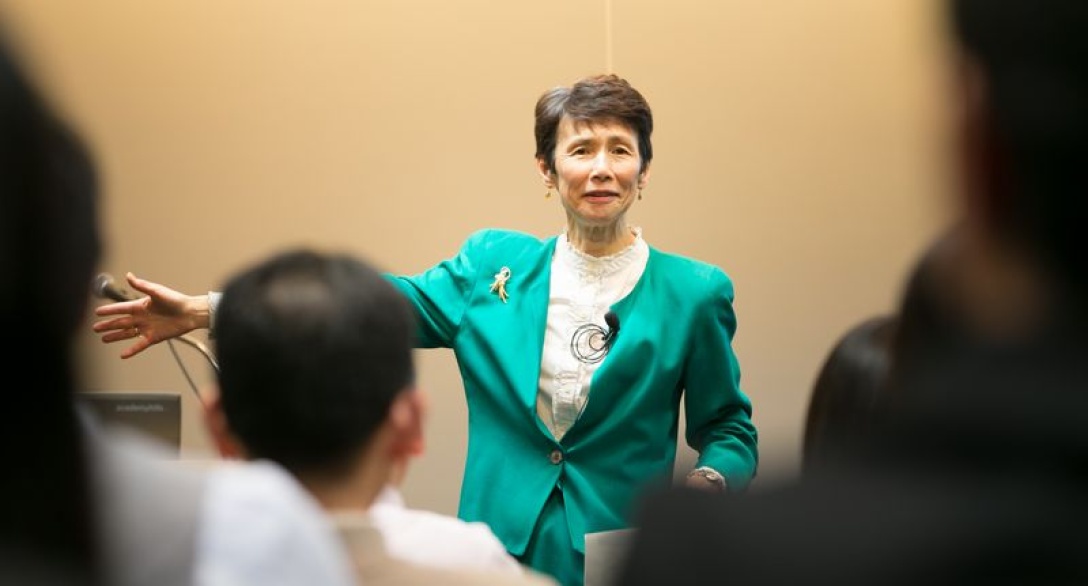 Global Agenda Seminar(以下、GAS)は、グローバル人材育成の第一人者である石倉洋子氏とアカデミーヒルズが2010年に開講したゼミ形式のプログラムです。

アカデミーヒルズは、これまで開催してきたグローバル人材育成プログラム(ゼミ)とは異なる形式で石倉氏と新たなプロジェクトに取り組む予定です。

新たなフェーズに入るタイミングで、毎年開催してきたGASの10年を石倉氏に英文で振り返っていただきました。2020年4月、いま世界中が新型コロナウイルス感染拡大に直面する厳しい状況の中で、私たちに求められるメンタリティについても書かれています。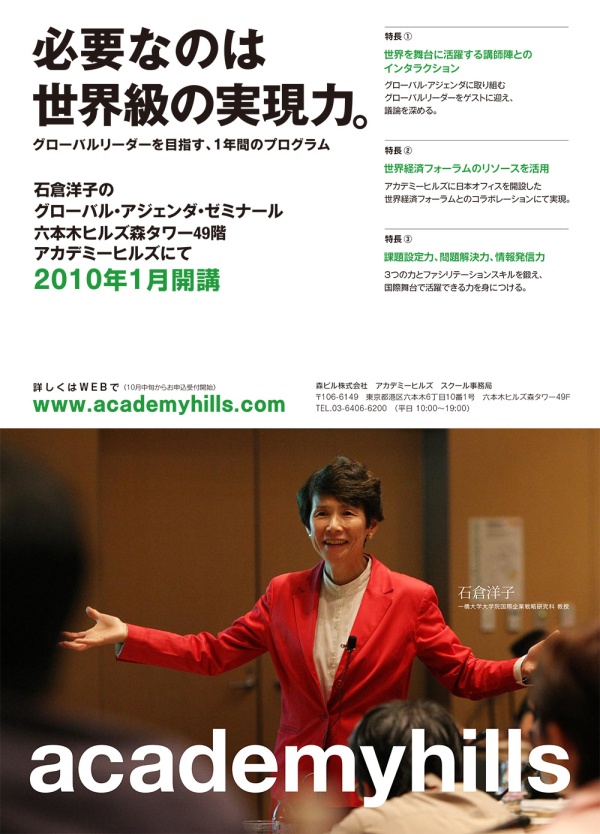 The flyer for the 2010 program
Japan is shunning the outside world and becoming inward looking --- this sense of crisis is what drove me to start the Global Agenda Seminar (GAS) series in 2010 with Academyhills. It was a program to develop global leaders from Japan who would tackle a global agenda. I have served as the main instructor for this series over the last decade.
Through this series, I wanted to provide opportunities for young people in Japan to keep up with what is happening in the world and think about what they can do to solve global issues. I have always felt that the younger generation in Japan has limited access to work in global fields.
As we prepare to go on to the next phase of the GAS series, I think this would be a good time to reflect on our activities to see what we have accomplished and what challenges remain.
Under the GAS series, we have held an intensive program almost every year in which we discussed global issues and tried to come up with solutions. The total number of participants during this 10-year period exceeds 300.
When we launched GAS in 2010, we began with typical global issues, including climate change, alternative energy sources, hunger/food shortages, human rights/refugees, and project finance for developing world.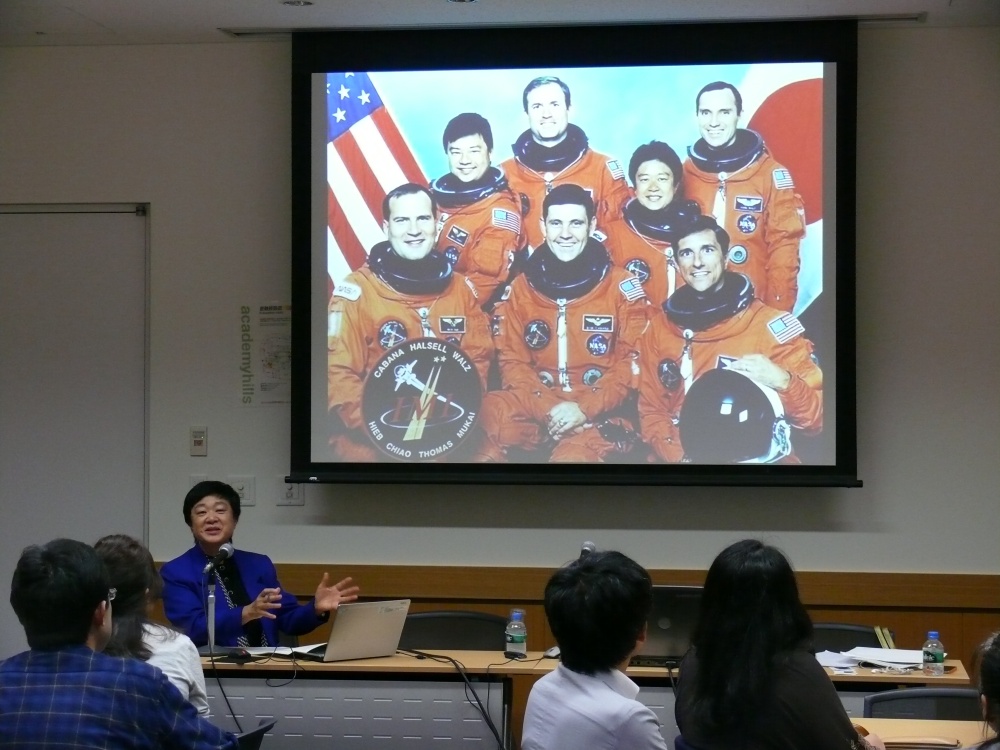 We had many wonderful guest speakers including Dr. Chiaki Mukai, Japan's first female astronaut.
As we continued the series in years that followed, our topics broadened to include topics such as journalism, foreign policy, presentation/storytelling, social investment, space, and music. During this time, we invited young experts in respective fields to share with us their experiences and issues they faced and give the participants the opportunity to develop solutions.
We also tried different formats such as a 10-month term, 3 separate short terms (3 months with specific topics each), 5 months with some basic skills training, etc., and we finally settled on the two-tier session in this series.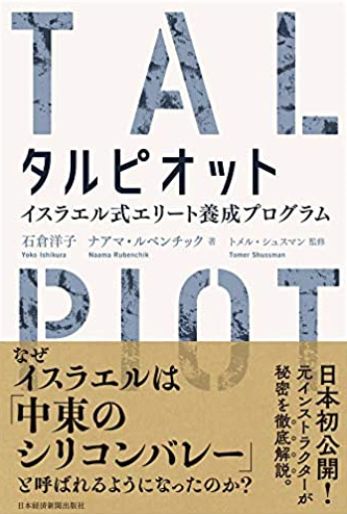 One was to have several-month long fixed-date intensive programs with a fixed group of members and the other was to hold a one-time seminar open to anyone and to which we invited guest speakers with me serving as moderator.
One outcome of the past GAS open seminars is the publication of the book (in Japanese) entitled
"Talpiot - How Israel Develops Technology Leaders"
in March 2020. The base idea of this book came from the seminar we held at Academyhills in November 2018 under the GAS series:
"What makes Israel a hotspot for innovation? ~The truth behind the most elite program in the Israeli Defense Forces~"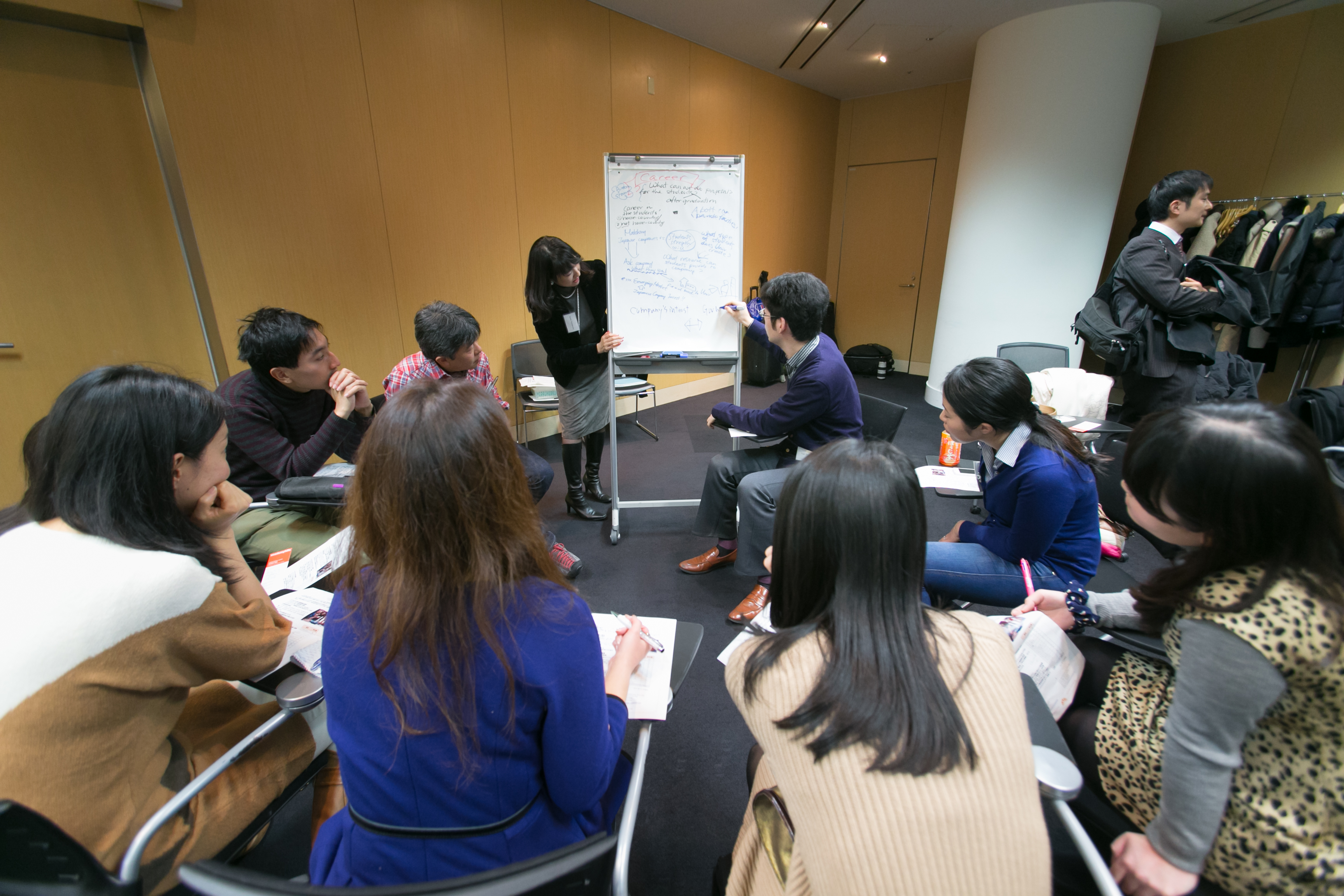 Working together creates bonds among members.
During the last phase of the 10-year project, the focus of the program shifted from discussing a global agenda to how individuals would survive in the VUCA (Volatility, Uncertainty, Complexity and Ambiguity) world. So the theme was set around the topics of "self-branding" and "working-across differences (how to embrace diversity in the workplace)"
It was a process of trial and error, and we had mixed results from the past intensive program. Some years, we were very successful, and all the members maintained their motivation and stayed together until the end with the final project. However, on the other hand, there were some cases when the program did not go that well as we failed to satisfy some participants during the course because of an ambiguous goal leading to confusion.
What I always had in mind is that we wanted to try something new ourselves. New challenges often end up in failure, but I wanted to show the participants that we all should not be afraid of failure and give it a try. When there were times we did not do well, we discussed why it went wrong and tried to refine our program.
Our original and continued objective for the GAS series has been to develop people with awareness of global issues (beyond Japan and their own job), and who have the capability to think hard to develop solutions and to take decisive actions to make them happen. Thus, we tried to provide as many opportunities as possible for participants to practice their own problem definition, solution development and execution.
Some exciting projects were produced by the alumni of the GAS such as the new technology venture
avatarin Inc.
launched by ANA Holdings Inc. and
JEPLAN Inc.
, an environmental startup specialized in recycling among other things.
Next Steps for the Global Agenda Seminar Series インデックス
注目の記事
11月21日 (火) 更新

2022-2023年の六本木アートカレッジ <未来を拡張するゲームチェンジャー>」では、新しい価値を生み出す5名のゲストを招き、トークイベン....




11月21日 (火) 更新

目利きの読み手でもある生物学者の福岡伸一が、六本木ヒルズライブラリーのために、特別に選んだ"これだけは読んでおきたい本"" いま読むべき本"....




11月21日 (火) 更新

今回は「もっとも書物らしい書物—西洋中世写本の魅力に触れる書籍案内」と題し、手書きから印刷、そしてデジタルへと変遷してきた「書物」の歴史を辿....



現在募集中のイベント
開催日 : 12月13日 (水) 19:30~21:00

いま世界の現場で何が起きているのかを、海外在住の日本人ジャーナリスト、起業家、活動家の視点を通して解説し、そこから何が見えるのかを参加者の皆....




開催日 : 12月06日 (水) 18:30~20:00

本の背景にあるストーリーから仕事のエッセンスを学ぶ「編集者の視点」シリーズ。第5回ゲストは、日本の翻訳出版界のマーケットシェア60%を占める....




開催日 : 12月08日 (金) 18:30~20:00 読書体験会 第3回 / 09月13日 (水) 18:00~19:30 トークイベント  ※終了いたしました / 10月18日 (水) 18:30~20:00 読書体験会 第1回 ※終了いたしました / 11月13日 (月) 18:30~20:00 読書体験会 第2回 ※終了いたしました

スマホ時代の課題を哲学の視点を使って考えていく本書『スマホ時代の哲学〜失われた孤独をめぐる冒険〜』。著者の哲学者・谷川嘉浩さんと、人材・組織....